We Offer Various Programs As Well As A Scholarship.
Faith Foundation Resources offer several programs, such as our HYPE Program. You can find more information on our programs and scholarship opportunity 
HYPE (Helping Young People to Employment) is a job-readiness and financial literacy program was started by Faith Foundation Resources in 2011 as a response to the gap in training that young people receive before entering the workforce. This professional training program teaches youth and young adults ages 16-24. The professional development team conducts a 8-week training program that culminates in each program participant being interviewed for a real job by a hiring manager. HYPE classes are currently offered in Illinois and Michigan. For more information on our upcoming classes and program content, please use the contact form.
Our students are truly taking advantage of the skills learned from participating in the H.Y.P.E. program. Click to view our article of one of the many student success stories, highlighted on ABC News.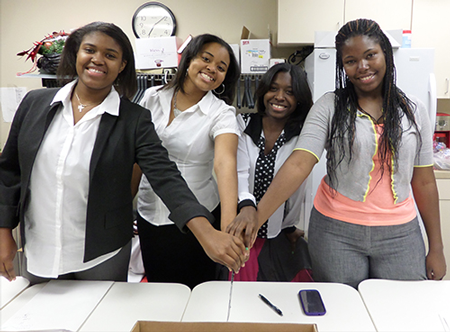 Download Our Program Brochure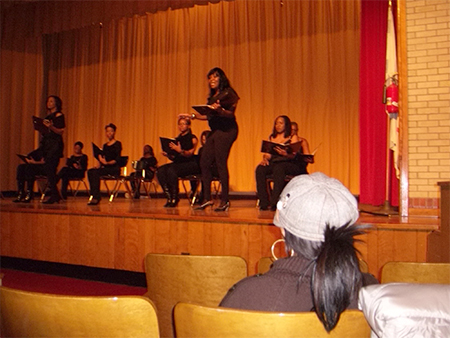 HIV Awareness/ Human Trafficking Program.
"Teen Power" HIV/AIDS Awareness/Prevention Program is FFR geared toward educating teens, and young adults on HIV prevention through information, role play, and skit. "If Only for One Night" skit looks at teen dating through the eyes of high school students. Using performing arts as a way to bring awareness to foster healthy sexual choices for teens and the young adult community.
The skit addresses how one night of drinking, partying and unprotected sex could change a teenager's life and future. The future goal of Faith Foundation is to take our "If Only for One Night" play to surrounding colleges and universities to heighten the awareness of this important subject matter.
"Teen Power" HIV/Human Trafficking Performing Arts Program purpose is to serve in two ways. (1) to strengthen the skill set of young performing arts students through play acting. (2) Bring awareness to the epidemics of HIV and Human Trafficking which effects hundreds of youth and young adults every year. Around the country, and right here in Michigan, men, women and children are forced into prostitution domestic servitude and other labor for little or no pay. Human trafficking is a modern-day form of slavery and is a large and growing criminal industry
worldwide.
Around the country, and right here in Michigan, men, women and children are forced into prostitution domestic servitude. Human trafficking is a modern-day form of slavery and is a large and growing criminal industry
worldwide.
"Roots" Culturally Based Nutrition Program
We live in a world capable, in principle, of providing a diverse and healthy diet for all, and yet one quarter of its people suffer from frequent hunger and ill health generated by diet that is poor in quality, quantity or both. Another quarter of the world's population eats too much food, food that is often heavy with calories and low on nutrients (colloquially called "junk food"). R Albritton – Food and Culture: A Reader, 2013. As a result Faith Foundation will work to combat these issues through our Healthy First Program.
"Roots" Faith Foundation's six-week culturally based nutritional cooking program is designed to educate communities about the nutritious, plant-based, whole foods traditionally eaten by ancestors. The 6-week program is designed to help bridge culture and nutrition. Each of the six lessons incorporates cultural history, nutrition, cooking instruction, and testings in order to reconnect students to a long lineage of healthy eating. The cooking classes empower participants with the knowledge, confidence, and skills to prepare healthy recipes at home. The course progresses as follows:
Lesson 1: Herbs & Spices
Lesson 2 Leafy Greens
Lesson 3 Whole Grains
Lesson 4 Beans & Rice
Lesson 5 Tubers & Mashes
Lesson 6 Fruits & Vegetables
The Program will impact children who attend the daycare centers, parents and families of children who attend the daycare centers, and daycare center staff. Families and friends of participants will be impacted as participants promote their easy and healthy recipes on social media at the end of each session. The community will be impacted by learning about healthy food preparation at the Healthy Food Fun Fair.
Media Coverage of The Roots Nutrition Program.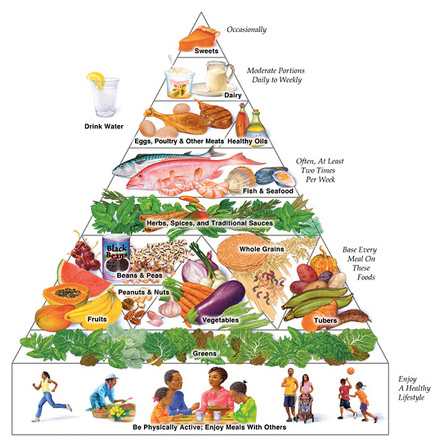 Faith Foundation Resources is a non-profit, tax-exempt 501(c) (3) established in 2003. Its Frances Thomas scholarship program objective is the awarding of Frances Scholarship to exceptionally worthy, financially needy, secondary school seniors for their undergraduate college education expense.
The Scholarship Committee selects the recipients after carefully evaluating character, scholastic records, financial need, extra-curricular activities and community service. No scholarship is given to a student unless his or her college has agreed to refrain from reducing its own scholarship grant at the expense of the Youth Foundation's award.
Faith Foundation Resources encourages young people to establish permanent attitudes of self-reliance, confidence, self-discipline, responsibility, volunteerism, and exemplary character thereby benefiting their own lives, and more importantly, the lives of others. To apply or for more information please contact us via phone or by using the contact form.
Scholarship Guidelines- Application Procedure
What is the Amount of the Individual Scholarship?
Grants have ranged from $500 to $1,000 per year and are renewable for a total of four years of undergraduate scholarship funding at our discretion. Individual scholarship size may fluctuate over time depending upon the size of our endowment.
What does the Application Require?
An applicant's first and second college choices and an intended course of study must be provided. It further requests SAT/ACT scores, transcripts, class standing, financial statements (including copies of parents' tax returns), an essay, and two letters of recommendation. Interviews may be required.
What is the deadline for application submission?
February 28th of every year
When does the Foundation award the scholarships?
Applicants are notified of their scholarship awards in late April, or early May. Final decisions with regard to the amount of the award, applicant's qualifications and choice of college are at the full discretion of Faith Foundation Resources' Scholarship Committee and its Board of Directors.
Is the application available online?
Yes. You may download the application form here..
Contact Us
If further communication is desired, please write a letter to the corresponding address below. Neither emails nor phone calls will be accepted.
Faith Foundation Resources
4225 Miller Road Unit #176
Flint, MI. 48507
810-766-9335